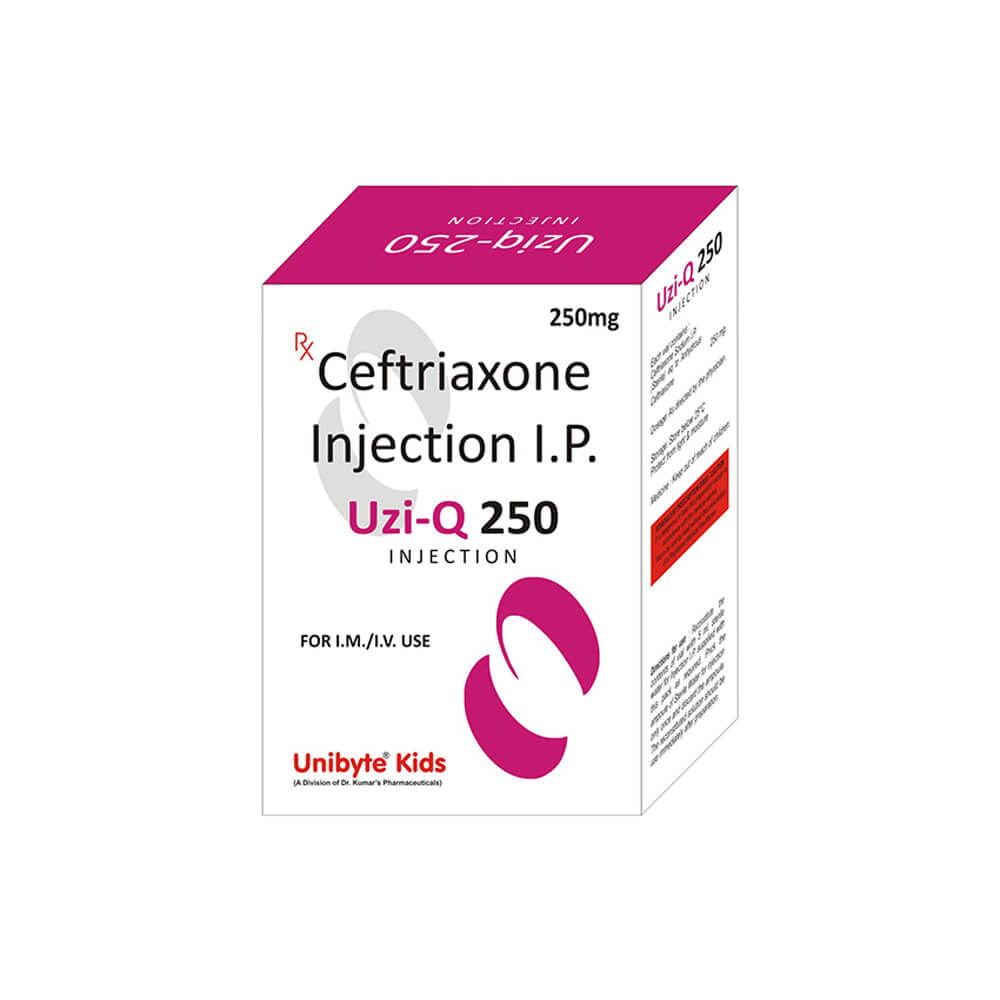 Ceftriaxone 250mg Injection
Brand Name: UziQ 250
Composition : Ceftriaxone 250mg Injection
Packing : Vial
Price : Rs.
Quick Enquiry
.
Description of Ceftriaxone 250mg Injection - Uzi-Q 250
Ceftriaxone Injection - Uzi-Q 250 injection is an antibiotic that helps in treating a bacterial infection in the body. It is effective in the brain, lungs, ear, urinary tract, skin and soft tissues, bones and joints, blood and heart. It can also be used after surgery to prevent infection. Let the doctor inject this medicine and do not try to inject it yourself as it can be dangerous for your child. The doctor will know the correct dose. Prefer making your child take the injection daily at the same time. Ensure to not stop the medicine early and complete the course even if your kid starts to feel better. It is to ensure that the infection is completely cured and won't be returning.
The most common side effects of Ceftriaxone Injection include rash, liver dysfunction, low blood cell count, etc. Although the side effects reside with time in case they linger for long or makes you worried, you must contact the doctor. Let the doctor know in advance if your child is allergic to any antibiotic or have any kidney or liver problem.
Uses of Ceftriaxone Injection
To halt the spread of infection-causing bacteria, Ceftriaxone Injection inhibits their development in the body. It is usually injected into a vein or a muscle by a doctor or a nurse. Meningitis, pneumonia, ear, abdominal, urinary tract, bone and joint, skin, blood, and heart infections are all treated with this medication. Your kid should feel better in a few days if they take this medication as directed. Take it exactly as prescribed by the doctor to receive the most benefit.
Side Effects of Ceftriaxone Injection
Most adverse effects go away on their own as your child's body becomes used to the medication. If they don't go away or you're worried about them, talk to the doctor.
Common side effects:
Decreased blood cells (red blood cells, white blood cells, and platelets)
Abnormal liver function tests
Diarrhoea
Injection site reactions (pain, swelling, redness)
Rash
How does it work?
Antibiotic Ceftriaxone Injection is a drug that is used to treat infections. It kills bacteria by stopping them from developing a protective coating (cell wall) that is required for their survival.
Get Quality Ceftriaxone Injection
Unibyte Kids is an ISO-certified pharma company that exclusively deals in an extensive range of quality pediatric drugs. The whole range of products offered by the company is manufactured under the guidance of the best pharmacists in the industry. The raw extracts used in the production of the products are gathered from the most trusted pharma merchants. We offer our franchise services across the country and welcome all the dedicated and passionate pharmacists who are interested to invest in this sector. The production plants of the company are furnished with the latest and advanced machinery that assists us in the production of the best quality drugs that are safe for the kids and their health conditions.