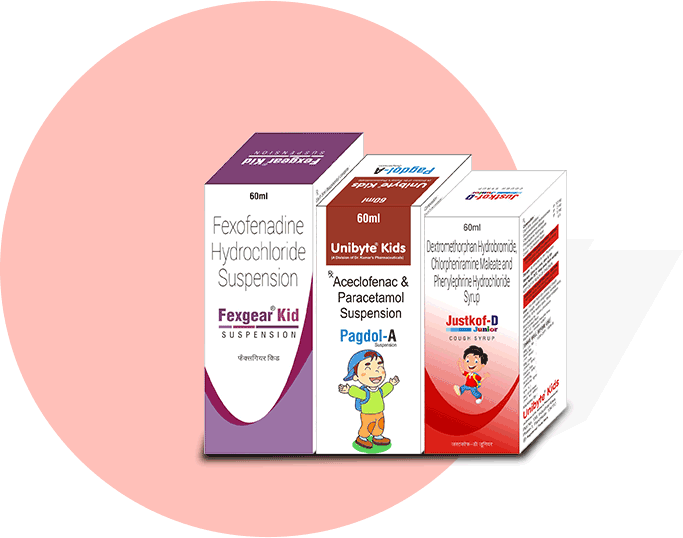 Welcome to
Unibyte Kids
Unibyte Kids is a rapidly expanding pediatric pharmaceutical company in India. Our objective is to improve the quality of life for children by providing them with the highest-quality medicines so that they can live a disease-free and healthier life. The company believes that by participating in the pharmaceutical industry, we can make a significant contribution to the advancement of science and the distribution of real medications that improve people's quality of life.
It's  Pediatric Division of Dr, Kumars Pharmaceuticals. We have made a reputation for ourselves in the pharmaceutical sector by dedicating ourselves to improving, developing, manufacturing, and distributing a wide range of pediatric products in India. Unibyte has a strong reputation for ethics, transparency, teamwork, honesty, and several other core characteristics.
We are a value-based pharmaceutical company that is a part of a reputed company called Medibyte. The GMP and WHO institutes have accredited the company's manufacturing facilities. We work with a wide range of pediatric medications, including liquids, dry syrups, and injections.

mission
With the mission of being India's premier pharmaceutical firm, the company is focused on developing the highest-quality pharmaceutical goods to achieve the greatest level of customer satisfaction.

vision
We are striving toward the vision of delivering our company world-class by inventing world-class pharmaceuticals. And the PCD farnchsie Business Opportunity is the gateway to our Vision, where we provide a chance to learn, earn, and grow with us continuously.
value
Unibyte is dedicated to providing high-quality, safe pharmacological solutions. Our main goal is to provide 100% client satisfaction. Along with social responsibilities, our organization is also capable of efficiently completing environmental responsibilities.