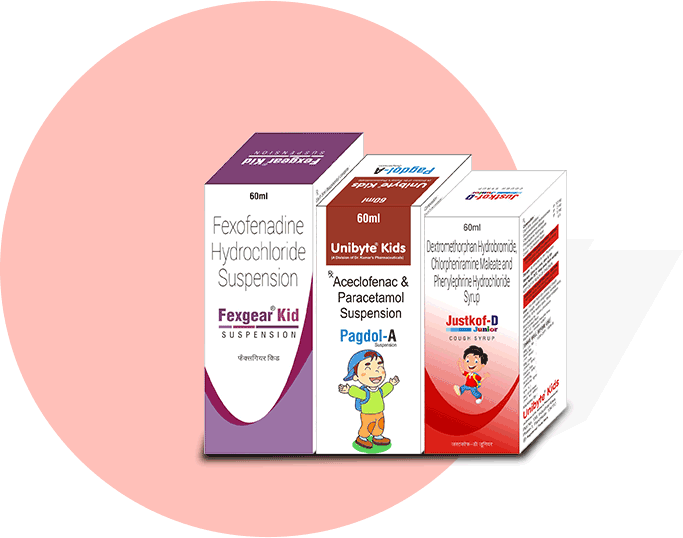 Welcome to
Unibyte Kids
Pediatric PCD Pharma Company in Panchkula and Chandigarh - Unibyte Kids Is Pediatric Division of Dr. Kumars Pharmaceuticals. It has dedicated itself into bringing better quality medicines for children to cure diseases in most subtle yet effective and safest way. Multiple therapeutic pediatric segments are covered owing to great demand making us the trusted Top Pediatric Pharma Company in India. We're into pharmaceuticals marketing, manufacturing, supplying and trading of reliable pediatric drugs formulations. Our range is certified with ISO, WHO, GMP and DCGI compliant, completely developed, produced and packaged in the company's Pharma manufacturing units. Strict quality monitoring by skilled experts using latest modern technology and latest techniques are a specialty bringing widest range of Pharma syrup, oral suspensions and drops for infants and adolescent children use. These cover antibiotic syrups, anti-infective range, laxatives, herbal medicines, analgesics etc. Each product is carefully developed for child consumption to provide optimal results.

Attaining 100% customer satisfaction, we're the best Pharma Company for the pediatric range offering an exclusive business deal with benefits to our PCD Franchise associates. We welcome Pharmacists, Pharma distributors, Stockiest and Pharma professionals looking to start pediatric products franchise in India at desired location. 

Mission
By expanding our product and commercial reach, we hope to introduce innovative molecules and safe medicine formulations to improve the quality of human life.

Vision
Unibyte is the top pharmaceutical firm that offers a wide selection of Pediatric medications. The industry is filled with a Vision to provide high-quality drug solutions at reasonable pricing to its global consumers.
Value
Unibyte is a value-based pharmaceutical firm in India, where people may put their trust in our future projects and help us build a solid reputation in the market by meeting the needs of our consumers.
Why Choose Us
Unibyte is a customer-centric pharma firm with having a business-centric approach that makes our organization is a top pick for the best Quality pediatric Pharma Franchise business in India. To provide a healthier and better life we devote our best efforts to manufacture genuine medicine compositions. Unibyte Kids is working to improve the lives of children via world-class research, cutting-edge technology, and a dedicated workforce.


Our Quality Approach
Through our Pharma manufacturing facilities, Unibyte Kids has best QA/QC approach bringing high-quality drug formulations in Schedule M units. We have latest machines and equipment produced using efficient technology for best results. 
Certified Safe
Products
Focusing in higher form of quality, authenticity and efficacy - Unibyte Kids operates by following all legal certificates from higher authorities. Our Pharma manufacturing facilities have GMP and WHO certifications, and our drug line has received high approval from the DCGI and our consumers.


Dedicated Skilled
Workforce
Unibyte Kids is staffed by a highly skilled and motivated team of professionals that are continuously striving to develop high-quality, cost-effective solutions to a variety of ailments. Our quality and research professionals are committed to bringing new drug solutions to the Indian market that are safe.

Ethics and Compliance
Start great earning with your own business with Unibyte Kids 'the most reliable Pharmaceutical Company because it offers its associates ethical and real business agreements. We are aware of our social and environmental duties and are making every effort to meet them.
Our Product Range
Syrups, Injections, and Liquids are among the Pediatric Products available from the company. We provide all of these things at the highest possible quality and reasonable prices. Our products are extremely simple to use, as well as safe, pure, and effective. Our pediatric products are well-received in the Indian market because we give competitive quality assurance.
Best Pediatric Products For Franchise In India
Catering to winder needs of Infant and Childcare medicinal needs, Unibyte Kids have focused on bringing you a wider range meeting various features of quality, durability, efficacy and safety. Our range covers antiviral, cold-cough products, anti-inflammatory, antibiotics, oral suspensions etc under top certifications and standards. Our company brings high-quality safe drug formulations to be used specifically for infants and adolescents. Our products are thoroughly researched and developed to maintain the highest quality parameters laid by ISO, WHO and GMP. Under expert's guidance, they're manufactured and pediatricians approve our medicines.
High-Quality Pediatric Products
Enjoy world-class drug formulations developed, manufactured and packaged under strict quality guidelines. Unibyte Kids have always maintained internationals standards laid by ISO, WHO and GMP to ensure that our pediatric drugs are safe, durable and effective in providing desired results. Our experts are skilled and experienced in R&D of medicines intended for child consumption. Our products are recommended by pediatricians having modern infrastructure, latescent technology and efficient technology. Our Pharma manufacturing facilities provide an upper hand to bring forwards highest quality pediatric product range. Various clinical test and thorough quality tests are run to eliminate deviations making our products side-effect free.
Self-owned Third Party Manufacturing Units

Certified with ISO, GMP and WHO

Dedicated Workforce Across Globe

 Best Packaging Techniques

Logistic Partners Across Globe

All Pediatric Drugs are DCGI Approved

Tax Benefits Due to Excise Duty Free Locations

Research Labs Equipped with Modern Machines
get in touch
Enjoy best quality products range by Unibyte Kids 'Leading Pediatric Company. We offer a great economic yet profitable business opportunity across India. You will enjoy best monopoly based PCD pharma franchise deals with multiple benefits. Connect with us now for more details.