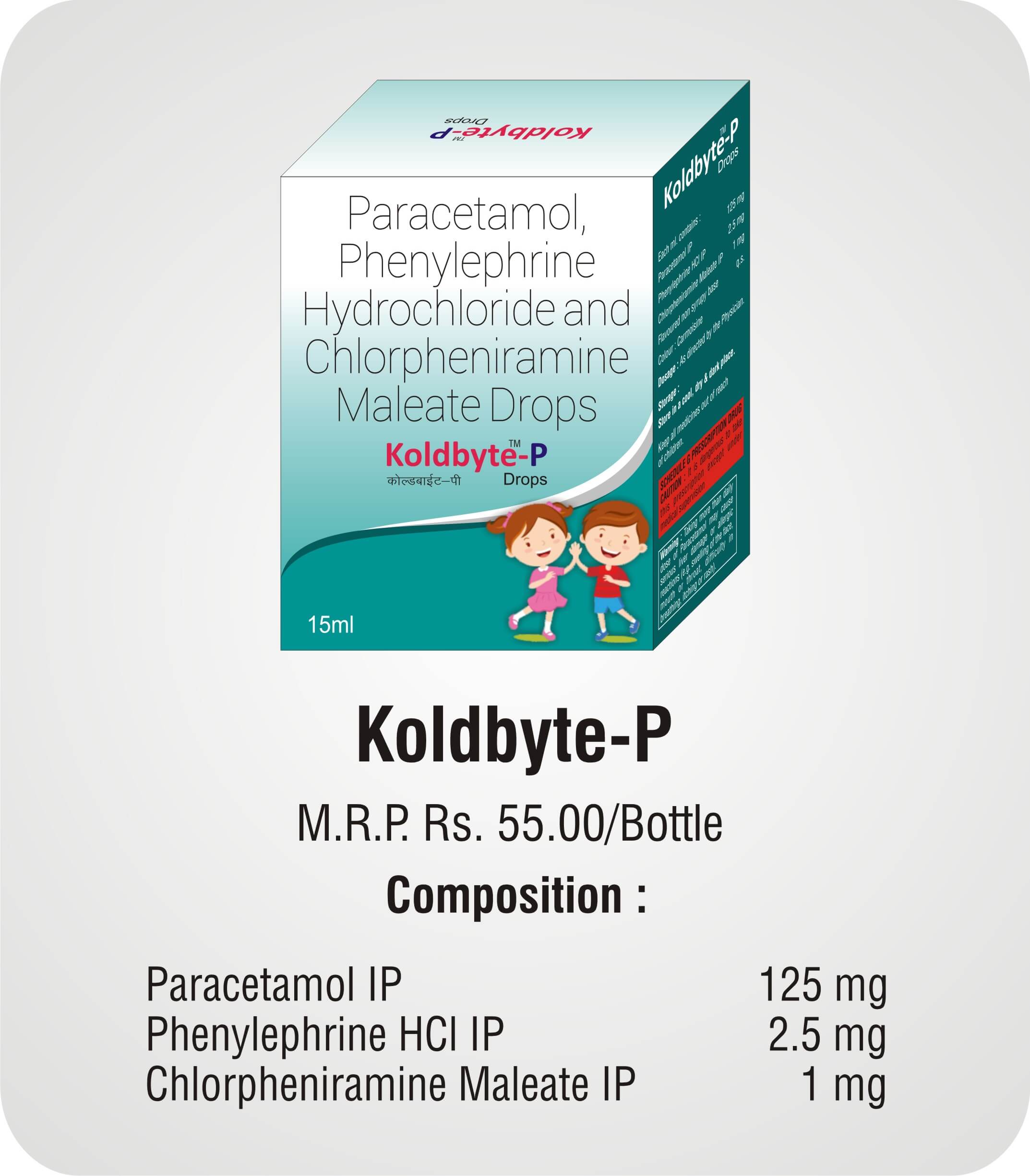 Para 125 + Pph 2.5mg + Cpm 1mg Drops
Brand Name: Koldbyte P
Composition : Para 125 + Pph 2.5mg + Cpm 1mg Drops
Packing : 15 ml With Carton + Dropper
Price : Rs.
Quick Enquiry
Description of  Paracetamol, Phenylephrine Hydrochloride Chlorpheniramine Maleate Drops - Koldbyte P
Paracetamol, Phenylephrine Hydrochloride Chlorpheniramine Maleate Drops - Koldbyte P Drops are commonly used to treat common cold symptoms in children. The symptoms include sore throat, watery eyes, sneezing, body ache, runny nose, cough, and fever. The medicine must be consumed as prescribed by the doctor. Children have sensitive stomachs and complain of stomach discomfort while taking medications. Thus, prefer giving the medicine with food. Remember the dosage and time of the medicine depends on the condition of your child, so do not further recommend the medicine for other kids.
The drops must be given at the same time every day. If your child vomits in 30 minutes of taking the medicine, give the same dose again. Make sure you complete the course f treatment even if your kid starts to feel better. Completing the course ensures that the virus and bacteria are completely healed and won't be disturbing your child. If taken in the right manner, the medicine does not have any side effects. Yet if your child starts to show any symptoms, do not worry as they will reside with time as the medicine gets used to their body. In case if the symptoms bother your child or persist for long, consult the doctor.
Uses of

Paracetamol , Phenylephrine Hydrochloride Chlorpheniramine Maleate Drops

Koldbyte P is a combination of

Paracetamol, Phenylephrine Hydrochloride Chlorpheniramine Maleate Drops 

that effectively works on relieving symptoms of a common cold like blocked nose, watery eyes, congestion or stuffiness, runny nose, and sneezing. It helps in loosening the thick mucus, making it easier to cough it out, which helps in easy movement of air. The medicine reduces blood vessels and gives immediate relief that lasts for several hours.
Paracetamol, Phenylephrine Hydrochloride Chlorpheniramine Maleate Drops Side Effects
There are no severe adverse effects associated with the use of Koldbyte P in children. If any side effects do develop, they're likely to go away as the body becomes used to the drug and becomes accustomed to it. Consult the doctor if these side effects continue or worry your kid.
Common Side Effects
Headache

Diarrhoea

Nausea

Rash

Dizziness

Vomiting
How do Koldbyte P Works?
Koldbyte P is a combination medicine of three drugs, which are, Chlorpheniramine, paracetamol, and phenylephrine. These drugs help treat symptoms of fever. Chlorpheniramine is an anti-allergic that helps in relieving symptoms like runny nose, sneezing and watery eyes. Paracetamol is an analgesic and antipyretic medicine that blocks the release of a certain chemical messenger in the brain, responsible for pain and fever. Phenylephrine is a nasal decongestant that works by constricting the tiny blood vessels in the nose, relieving congestion and stuffiness.
Get Quality Phenylephrine Chlorpheniramine Maleate & Paracetamol Drops
Unibyte Kids is the top pediatric company that is engaged in the production, trade and supply of a vast variety of pediatric drugs at affordable rates. The company has its franchise across the country and is offering third party manufacturing services to all the pharma companies who are looking out for an authentic manufacturer. We have our own manufacturing plants and the raw extracts that we use in the production of our products are gathered from the most reliable vendors of the industry. With all the required certifications from ISO, WHO, DGCI and GMP, we are the leading manufacturing and franchise company in India. Contact us for the best deals.