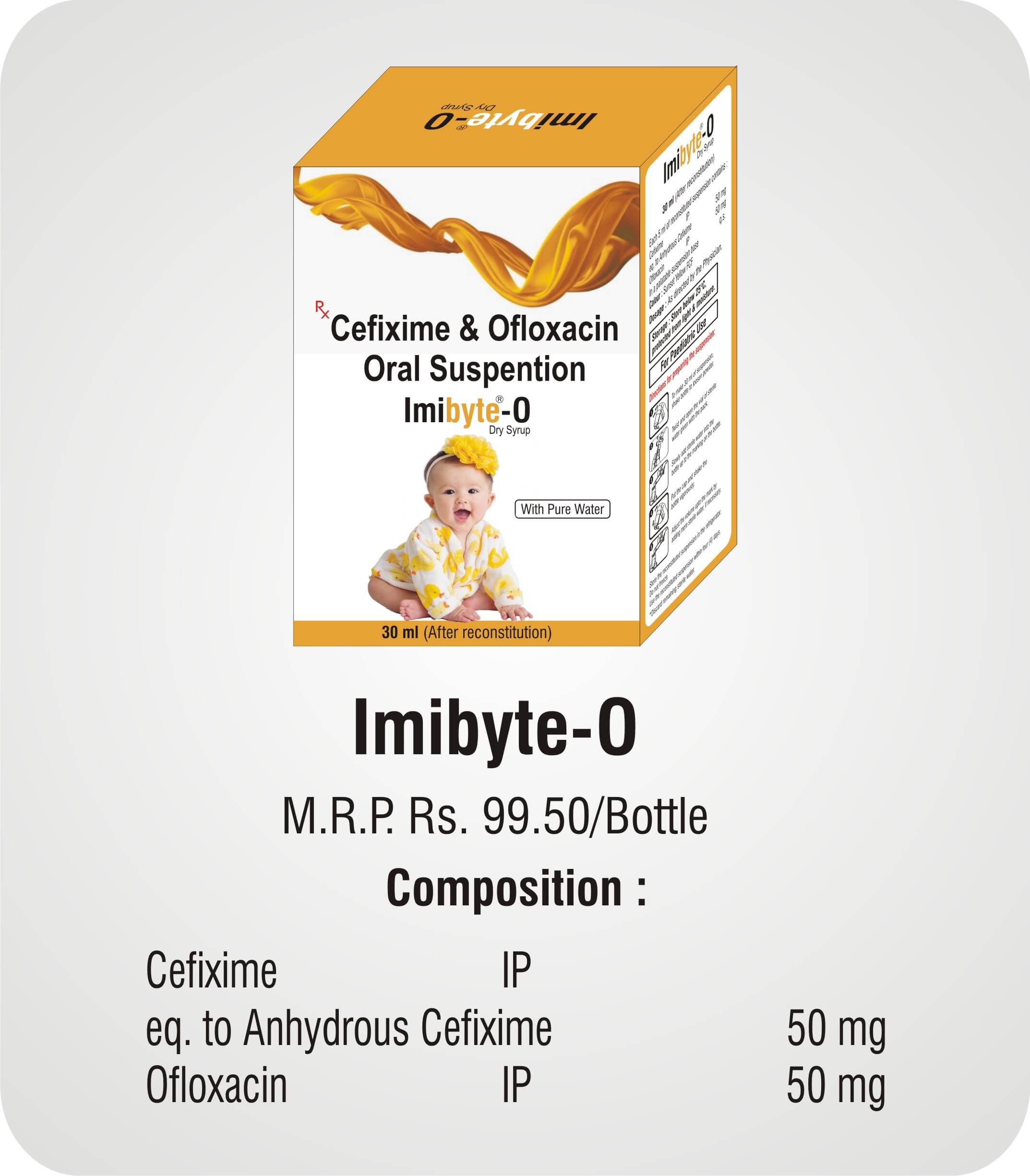 Cefixime 50mg + Ofloxacin 50mg .DrySyrup
Brand Name: Imibyte O (DrySyrup With Water)
Composition : Cefixime 50mg + Ofloxacin 50mg .DrySyrup
Packing : DrySyrup With Water
Price : Rs.
Quick Enquiry
Description of Cefixime 50mg + Ofloxacin 50mg Dry Syrup
Cefixime-Ofloxacin Dry Syrup is an antibacterial drug consisting of cefixime and ofloxacin. Used to treat typhoid fever, urinary tract infections, skin and soft tissue infections, and lower respiratory tract infections in children. It has no effect on viral infections.  Cefixime-Ofloxacin dry syrup kills bacteria and stops the further growth of infection. 
You can take this Dry Syrup with or without food. Dissolve the powder in a glass of water prior to delivery. Give your child the dry syrup every day at the same time so they can remember to take it. As soon as you begin giving this medication to your child, make sure the entire course of treatment is finished. Avoid using this Dry Syrup if you don't need to because overusing it can make the germs resistant to treatment.
Cefixime is a cephalosporin antibiotic used to treat bacterial infections, pneumonia, bronchitis, gonorrhea, and ear, lung, throat, and urinary tract infections. It is a bactericidal beta-lactam antibiotic (like penicillin).
Ofloxacin is a quinolone antibiotic used to treat certain types of bacterial infections (ear infections, urinary tract infections) and pelvic inflammatory disease (PID). 
In a recent study, co-administration of cefixime and ofloxacin dry syrup was significantly superior to moderate improvement in typhoid fever, urinary tract infections, respiratory tract infections, and bone and joint infections. It has been shown to provide significant symptom relief. 

Uses of Cefixime-Ofloxacin Dry Syrup
cefixime-ofloxacin dry syrup is an antibiotic used to treat bacterial infections like:
Typhoid fever

Urinary tract infection 

Respiratory tract infection

Skin and skin structure infection

Nosocomial infection
Side effects of Cefixime-Ofloxacin Dry Syrup
Call your doctor right away if your symptoms seem life-threatening, if you suspect a medical emergency, or if you're having severe side effects. Examples of severe side effects and related symptoms include the following:
Dry mouth

Loose stools

Abdominal pain

Diarrhea 
Precautions 
Prescription of cefixime + ofloxacin in the absence of a proven or strongly suspected bacterial infection or a prophylactic indication is unlikely to benefit the patient and may increase the risk of drug resistance development.
Patients receiving dialysis need to be closely watched. Patients having a history of gastrointestinal disease, particularly colitis, should be prescribed cefixime with caution.
Storage and Dosage
Medicines should be kept in a way that ensures their safety and effectiveness when taken. You can store this

cefixime 50mg + ofloxacin 50mg dry syrup

in a cool and dry place. 
Only use Cefixime + Ofloxacin Dry Syrup under a doctor's prescription. Follow your doctor's instructions for taking the syrup exactly. Your child's doctor will give you advice on how frequently your child should take the medication based on your health. After eating, your youngster can drink the syrup.
Get quality Cefixime + Ofloxacin Dry Syrup 
Unibyte Kids has committed itself to provide top-notch medications for kids to treat illnesses in the most sensitive, efficient, and secure way possible. Numerous therapeutic pediatric sectors are addressed due to significant market demand. Our product range is created, produced, and packaged wholly in the organization's pharmaceutical manufacturing divisions, and it complies with ISO, WHO, GMP, and DCGI standards. In order to launch a pediatric goods franchise in India at a certain place, we warmly welcome pharmacists, pharmaceutical wholesalers, stockists, and pharmaceutical professionals.